ATTORNEY PROFILE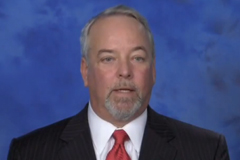 Donald Brown
Zisser, Robison, Brown, Nowlis, Maciejewski & Cabrey, P.A.
1 Independent Drive, Suite 3306
Jacksonville, Florida 32202
(904) 342-6705

COLLEGE: University of Florida
LAW SCHOOL: Stetson University College of Law
ATTORNEY SINCE: 1981
STATES ADMITTED: Florida
PRACTICE AREAS: Family, Personal Injury




Donald E. Brown was born and raised in Jacksonville, Florida. He attended local schools, and received his undergraduate degree from the University of Florida. He received his law degree from Stetson University College of Law in 1981.

From 1981 to 1986, Don worked in the State Attorney's Office in Brevard and Seminole Counties as a prosecutor. During his tenure with the State Attorney's Office, Don prosecuted cases ranging from murder, capital child sexual abuse, DUI manslaughter and drug trafficking. Don gained a tremendous amount of jury experience as a prosecutor for the State Attorney's Office.

Don joined the Zisser law firm in 1986. Even in 1986, the Zisser law firm had a substantial reputation in the northeast Florida in the areas of personal injury, family law, and criminal defense. During his 26 years with the Zisser firm, Don has observed first hand how the firm has continued to grow, while maintaining its high standards in the community. Don recognizes that a lot of the credit for the success of the Zisser law firm is the result of the dedicated and experienced support staff.

Presently Don represents two of the largest residential developers in northeast Florida. He handled their litigation problems for over 20 years. Don believes his 28 years of trial experience directly benefits his clients. Since 1986, Don has been trying cases in Duval, Clay, Nassau, and St. Johns Counties. Don has developed a reputation in northeast Florida as an excellent litigator. Throughout this time, his client base has expanded year after year, primarily as a result of his clients referring friends and family members to him for legal assistance.