ATTORNEY PROFILE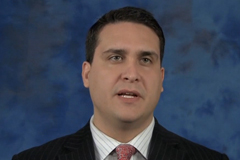 Elias Xenos
The Xenos Law Firm, PLC
261 E. Maple Road
Birmingham, Michigan 48009
(248) 419-1235

COLLEGE: University of Michigan, Ann Arbor
LAW SCHOOL: Michigan State University College of Law
ATTORNEY SINCE: 2003
STATES ADMITTED: Michigan
PRACTICE AREAS: Bankruptcy, Immigration, Securities Fraud, Commercial Litigation, Social Security Disability, Real Estate, Criminal, DUI




Elias T. Xenos is the Managing Member of the The Xenos Law Firm, PLC. With experience in a wide variety of legal practice areas, Elias has earned a reputation for consistently achieving excellent results for his clients.

Having earned a Dual Bachelor's Degree in Political Science and Russian and East European Studies from the University of Michigan (Ann Arbor) and joint degrees in Master of Business Administration (finance) and law from Michigan State University, Elias began his legal career as an intern for the Michigan Supreme Court. Next, he held a prestigious externship with the U.S. Sixth Circuit Court of Appeals. Turning his attention to the private sector, Elias has practiced before many Michigan trial Courts, the Michigan Supreme Court, the Michigan Court of Appeals, and federal trial and appellate courts in multiple jurisdictions, both civilly and criminally. Throughout his career, Elias has helped his clients in varied industries obtain favorable results relating to a wide range of business litigation and transactional matters. In 2010, Elias founded The Xenos Law Firm, having practiced in several prominent Detroit-area and Omaha-area law firms. Elias is admitted to practice in Michigan, Nebraska, as well as numerous federal and bankruptcy courts and administrative tribunals.

Unlike large law firms where work often funnels down to inexperienced associates, at The Xenos Law Firm, Elias is personally involved in every client matter. This means that, regardless of the complexity, your case will be handled by Elias, and will benefit from his legal experience and fine judgment. In addition to handling each and every case himself, Elias is dedicated to delivering the highest quality legal services based on fee structures that reward results, not just effort.