ATTORNEY PROFILE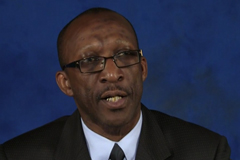 Horace Lowe
Webb & Schtul, LLC
925 S. Niagara Street, Suite 500
Denver, Colorado 80224
(303) 900-7154

COLLEGE: Gonzaga University
LAW SCHOOL: Gonzaga University School of Law
ATTORNEY SINCE: 1988
STATES ADMITTED: Colorado
PRACTICE AREAS: Probate and Trust Administration and Litigation, Business Law, Commercial Contracting




Mr. Lowe has been admitted to practice in Colorado since May 1988. His career has included serving as Judicial Clerk for two judges of the Colorado Court of Appeals, more than seven years with Davis, Graham & Stubbs, LLP, and two years as in-house legal counsel for the North America Division of a Swedish-based independent software vendor in the telecommunications industry, EHPT USA, Inc., until 2001.

As counsel for EHPT USA, in addition to serving as a member of the company's executive management team, Lowe was primarily responsible for all legal matters arising in the United States and Canada. He also worked as part of an international team of lawyers supporting the global operation.

Following an extensive sabbatical in 2002, Lowe re-established the law firm of H.A. Lowe & Associates LLC (originally, Menogan & Lowe, LLP), which he operated until beginning his association with Webb & Schtul in January 2010.

As a transactional lawyer, Lowe's practice has included general business counseling, business entity formation and governance, business acquisitions, equity and bank financing transactions, local and international sales and distribution arrangements, United States and international trademark and copyright registration, intellectual property licensing and transfers and a broad variety of commercial transactions, including negotiating and drafting the terms and conditions for the development of the world's first "flying hospital."

Mr. Lowe's practice as a litigator and trial lawyer has involved a number of diverse areas in addition to his probate administration and litigation practice, which began in 2002. Lowe has served as counsel to various interested parties in probate matters, and has served as estate counsel for several estates in administration, including the case study presented in his series published by the Risk Management Association, Probate Collections--Managing for the Two-Minute Drill (The RMA Journal, April-July 2004). The four-part series discusses the difficulties of collecting unsecured deceased debt for lenders, and makes recommendations for risk reduction and recovery optimization.

Lowe is a 1986 graduate of Gonzaga University School of Law, Juris Doctor; 1985 Phillip C. Jessup International Law Moot Court Competition (First Place Written Brief, Second Place overall in the Rocky Mountain Regional Competition). He earned his undergraduate degree, Bachelor of Arts (political science), magna cum laude, from Gonzaga University in 1983.