ATTORNEY PROFILE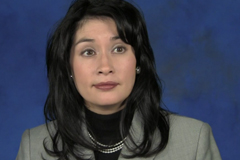 Ling Lam
Webb & Schtul, LLC
925 S. Niagara Street, Suite 500
Denver, Colorado 80224
(303) 900-7154

COLLEGE: New York University
LAW SCHOOL: St. John's University School of Law
ATTORNEY SINCE: 1995
STATES ADMITTED: Colorado
PRACTICE AREAS: Estate Planning




Ling Lam has been in private practice since 1995, focusing in the areas of estate and tax planning, including wills, trusts, estate and gift taxation, disability planning, probate and trust administration. Ms. Lam is licensed to practice in the state courts of Colorado and New York and is of counsel to the law firm of Webb & Schtul, LLC. She holds a Bachelor of Arts degree from New York University and received her Juris Doctorate degree from St. Johnís University School of Law.

In addition to practicing law, Ms. Lam has served as an advisor for the National Network of Estate Planning Attorneys. In this capacity, Ms. Lam has worked with over 100 law firms across the country as a practice management consultant, to assist estate planning attorneys in improving the quality of the legal services they provide their clients. She has also worked with various financial institutions, educating their clients on estate planning and is the approved in-house attorney for the Credit Union of the Rockies.

Ms. Lam is the Co-Founder and former Executive Director of the Estate Planning Council of Southeast Denver (EPCSED) and has served on the Board of Directors for the Womenís Estate Planning Council. These groups are cooperative alliances of attorneys, CPAs, financial planners and bank trust officers dedicated to continuing professional education concerning estate planning and tax law. Ms. Lam is also a member of the Colorado Bar Association, Douglas-Elbert County Bar Association, Parker Chamber of Commerce and the Alliance of Professional Women. Currently, Ms. Lam serves as the legal advisor for the Douglas County Adult Protective Services Advisory Team and has served on the grant making committee for Social Venture Partners Denver via The Denver Foundation.

Ms. Lam is a frequent lecturer and is available to provide educational workshops for non-profit organizations, community and professional groups.