ATTORNEY PROFILE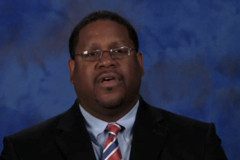 Randolph Giddings
Burns & Giddings, P.A.
122 South Calhoun Street
Tallahassee, Florida 32301
(850) 424-1825

COLLEGE: Cleveland State University, University of Texas at Austin (MBA)
LAW SCHOOL: Mercer University
ATTORNEY SINCE: 1997
STATES ADMITTED: Florida
PRACTICE AREAS: Personal Injury; Wrongful Death; Auto, Truck, Bike and Motorcycle Collisions; Boating and ATV Accidents; Semi-Tractor Trailer Collisions; Vehicle Rollovers; Dangerous Products or Equipment




Randolph M. Giddings is a civil trial lawyer with over 14 years of experience in a wide variety of personal injury and wrongful death claims. Over the course of his practice Mr. Giddings has successfully concluded hundreds of cases on behalf of his clients. Mr. Giddings also has significant legal experience in the areas of family law, criminal law, administrative law, contract disputes, contract negotiations and environmental law.

Mr. Giddings graduated from Mercer University's School of Law in Macon, Georgia. Mr. Giddings received his Masters degree in Business Administration from the University of Texas at Austin. Mr. Giddings also has a Bachelor of Mechanical Engineering degree from Cleveland State University.

Mr. Giddings was admitted to the Florida Bar in 1997 and admitted to the Georgia Bar in 1999. Mr. Giddings is admitted to practice in all state courts in Florida and Georgia and has represented clients throughout Florida and Georgia. Mr. Giddings is also admitted to practice in the United States District Court for the Northern District of Florida.

Mr. Giddings is a member of the Trial Lawyers section of the Florida Bar and the Capital City Justice Association of Tallahassee. Mr. Giddings is also a member of the Family Law section of the Florida Bar, the Tallahassee Barristers, the Georgia Trial Lawyers Association, as well as a member of the Young Lawyers Division of the State Bar of Georgia.

Mr. Giddings has a longstanding history providing voluntary legal services to the local community by providing pro bono legal services, participating as a voluntary legal counsel to single fathers for the Fatherhood Initiative and serving as a voluntary member of the City of Tallahassee's Environmental Code Enforcement Board.